Why Are Escape Rooms So Popular With Children?
Thu, 05 Mar, 2020
When it comes to escape rooms
One of the most frequently asked questions from concerned parents and guardians is whether escape rooms are suitable for young children. Rest assured, kids as young as five years old can enjoy the experience as long as an accompanying adult is present.
From our experience, escape games are insanely popular with youngsters and we love seeing their faces light up with excitement during their 60-minute escape attempt. Here's why they're so popular with the young'uns!
Enter Another World
Escape rooms nowadays are decked out in décor, props, ornaments and furniture of the highest quality – creating an atmosphere that relates so thoroughly to the room's theme it genuinely feels like you're entering another world once the doors close behind you.
The immersive aspect of escape rooms is one of the main attractions for young children. The enchanting ambience allows them to truly feel like they're part of their favourite comic book or movie set.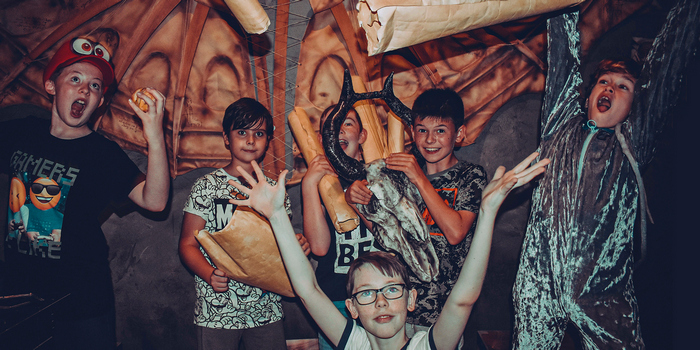 Fun and Challenging Puzzles
We can't talk about escape rooms without mentioning the puzzles. The puzzles are essentially the heart and soul of the concept – they're a challenge that keeps the players from every part of the world coming back for more!
The puzzles aren't what you might think, either. They're incredibly versatile and different for each room and are always related to the room's unique theme. Logic-based, code deciphering, lock and key, object finding and much, much more – the variety is what keeps kids interested and engaged for the whole hour without getting irritable or bored.
Make Them Feel Important
Escape rooms are a great way to encourage your little ones and boost their confidence. Kids love getting approval from their parents, older siblings, teachers… basically anyone older than them! Whether that's when a puzzle is solved or a clue is found, there are plenty of opportunities to praise them as important contributors to the team!
Bonding Time!
All of the points made above contribute to making a visit to your nearest escape room a truly fantastic day out for children. One factor that can't be overstated enough is the fact that they're one of the best activities for a unique bonding experience.
We guarantee it's something that will be talked about for days, weeks and even months to come. This works just as well regardless of whether the kids are there with their friends or with their families!